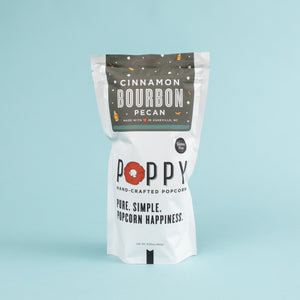 BECAUSE BOURBON AND PECANS ARE AS SOUTHERN AS IT GETS
This flavor speaks for itself. Made with Troy & Sons® Cinnamon Honey Whiskey and fresh, caramelized southern pecans, you'll fall in love with this gluten-free flavor.
A LITTLE GIFT FROM THE SOUTH.
For events, gift bags or just because you really, really like popcorn.
Each case contains 12 market bags. Market bags contain approximately 5 cups of popcorn. They have a 6-month shelf-life before being opened and reseal with an embedded zip lock.
Get your favorite flavor in bulk! Take 15% off when you buy 3 or more cases. Discount applied automatically.