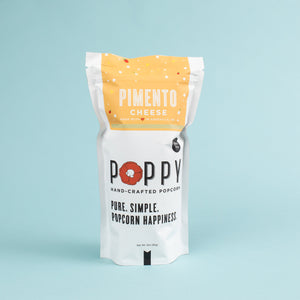 Y'ALL ARE IN FOR A TREAT
There's something very special to us southerners, and it's called pimento cheese. With a full, cheesy flavor from Non-GMO cheddar and a bit of that classic pimento bite, you're going to love our rendition of this southern spread.
BLESS YOUR HEART. AND YOUR TASTEBUDS.
For events, gift bags or just because you really, really like popcorn.
Each case contains 12 market bags. Market bags contain approximately 5 cups of popcorn. They have a 6-month shelf-life before being opened and reseal with an embedded zip lock.
Get your favorite flavor in bulk! Take 15% off when you buy 3 or more cases. Discount applied automatically.