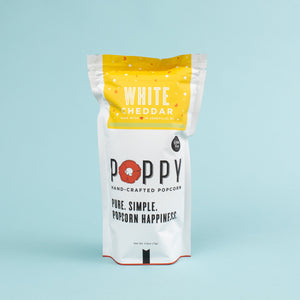 SHARP, CHEESY GOODNESS.
Crunchy, cheesy and creamy, our gluten-free White Cheddar popcorn is the perfect salty snack you've been looking for. It pairs well with game nights, road trips, and family time. We don't officially condone breaking rules… but you might not be able to resist sneaking this in with you the next time you go to the movies. "wink wink"
A NEW STAPLE FOR YOUR SNACKING.
For events, gift bags or just because you really, really like popcorn.
Each case contains 12 market bags. Market bags contain approximately 5 cups of popcorn. They have a 6-month shelf-life before being opened and reseal with an embedded zip lock.
Get your favorite flavor in bulk! Take 15% off when you buy 3 or more cases. Discount applied automatically.